08/03/22: Celebrating International Women's Day 2022 #BreaktheBias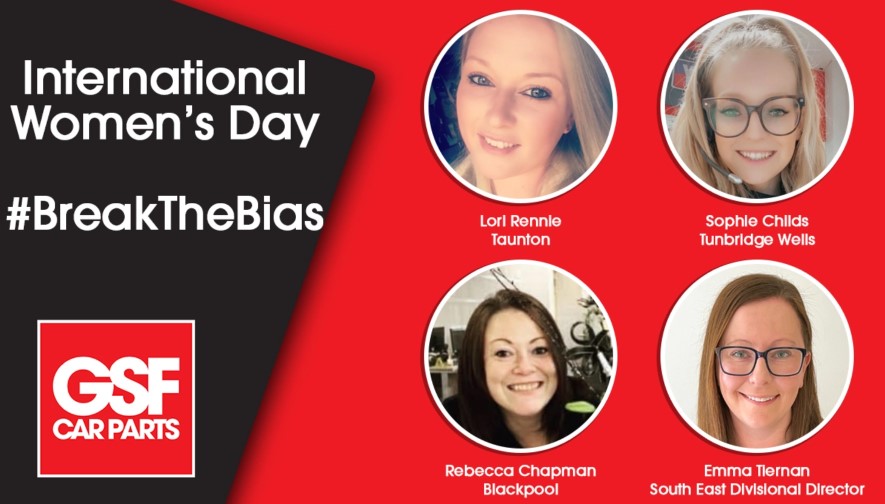 International Women's Day has been observed since the early 1900s and was initially used to advocate women's rights to work and vote, and to bring an end to gender discrimination. Today the focus is on celebrating achievements and calling for greater gender equality.
This year's theme is to 'break the bias' and with the automotive industry often considered a male industry, GSF Car Parts is taking this opportunity to shout about some of the fantastic female colleagues it has in the network.
Tunbridge Wells Assistant Branch Manager Sophie Childs studied Light Vehicle Maintenance and Repair at College before joining the company in 2012. She said: "Some people see the industry as a male environment, but I strongly believe that you can do any job it you put your mind to it, so if it's something you really want to do, go for it.  "It can be a struggle early on, trying to build trust with the customers, but with support and persistence it can be rewarding, so don't let anyone hold you back!"
Blackpool Branch Team Member Rebecca Chapman worked through different elements of the motor industry, first as an apprentice mechanic, then training apprentices before moving into car parts. Talking about the industry Rebecca, said: "I think a thick skin is necessary, but no more than it would be in any other engineering-based trade. That said, there are many more supportive, encouraging people out there in the motor trade than there are not, and I have worked with some wonderful people and customers. "More women than ever before are joining the motor trade now, making their mark and being incredibly successful and respected in what they do."
Taunton Branch Manager Lori Rennie came across the role of driver when she was looking for a customer facing job that would allow her to be out and about. She worked through every branch role, experiencing the warehouse through to sales before being promoted into a management position. She believes one of her biggest challenges was overcoming what she assumed other people's preconceptions of her would be as a woman in this industry. She reflected: "I was my own worst enemy and the biggest stigma I held was the concern that I would be judged for being a woman, particularly as I moved towards management positions. I want to be clear that this came from my own thoughts and not from an experience, because in fact my managers were the ones supporting me and pushing me forward, trying to make me see that I was holding myself back."
South East Divisional Director Emma Tiernan also spoke to The Motor Ombundsman in their latest 'Talks To' article, in which she covered her interest in the motor industry, her outlook for the business in 2022 and her advice to women in the industry. Check out the full article here.