09/03/22: Servicesure launches IMI-accredited EV scheme for members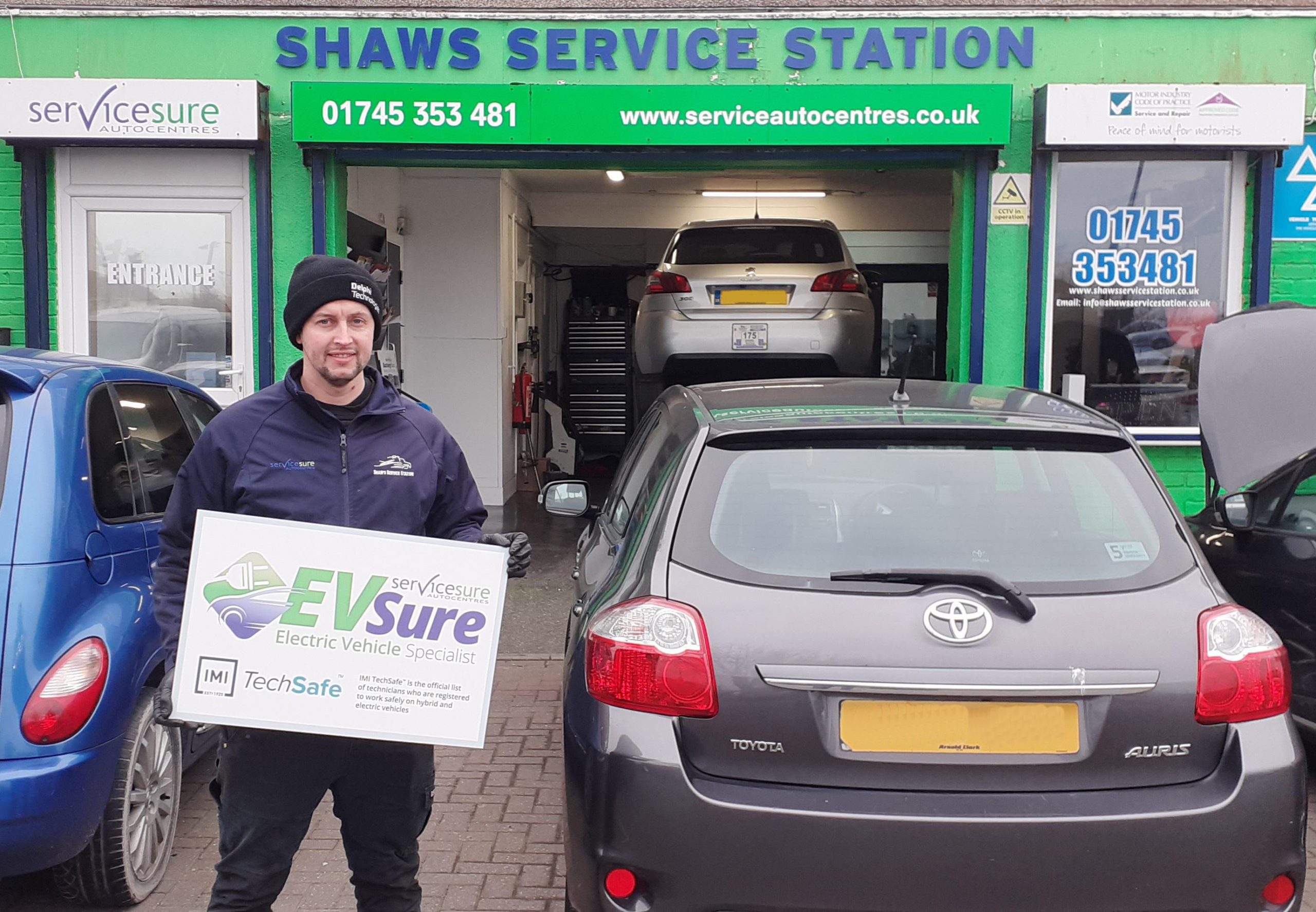 LEADING garage model Servicesure has launched an innovative new scheme to help its network of 548 member garages become trusted traders for the growing EV and hybrid aftermarket.
EVsure is available as an add-on scheme for existing Servicesure members and offers a wide range of benefits to support these garages in unlocking the potential of EVs for their business. There are already 19 Servicesure members operating as EVsure garages.
The scheme is available to Servicesure members who have at least one technician qualified to the IMI's Level 3 Techsafe standard, which enables them to work safely on EVs. Members who become EVsure garages will have access to a range of benefits including national branding and promotion, discounted technical advice and equipment, and exclusive professionally accredited training and development.
GSF Car Parts Head of Garage Programmes Paul Dineen said: "We believe EVsure is going to be a gamechanger for the aftermarket. Main dealers have held a monopoly on EV maintenance and repair for too long, and we know from experience that independent garage owners can offer excellent value for money alongside outstanding service that matches and often exceeds main dealers.
"With the volume of EVs entering the aftermarket now rapidly increasing, it's imperative for independent garages to prepare and adapt to this huge growth market. There's also some lost ground to catch up on with PHEVs, which is another market main dealers have dominated for more than a decade.
"EVsure will enable our Servicesure members to directly compete with main dealers by offering a qualified, trusted and good value alternative. The Servicesure brand has a fantastic reputation with internal combustion engine vehicle owners and we fully expect EVsure to be held in similarly high regard."
Servicesure is the garage model run by leading UK motor factor GSF Car Parts, which operates 175 branches across England, Wales and Ireland, and is currently investing in expanding its footprint through new branch openings and increasing its head count to better support customers.
Steve Nash, CEO of the IMI, added: "The launch of EVsure is an important development, not only for Servicesure's network of independent garages but also the aftermarket sector as a whole. Consumer appetite to embrace the UK's EV transition is gathering pace and the industry must step up to ensure the skills are there to meet the service and repair needs of its EV customers.
"The independent sector embracing this opportunity is crucial in ensuring we continue to offer motorists choice. The EVsure scheme fully recognises this, providing independent garages with the much needed tools to adapt to emerging technologies, underpinned by professional accreditation."
Experienced MOT tester and mechanic Hayley Pells runs Avia Autos, an award-winning garage in Bridgend. As one of the first Servicesure members to sign up to EVsure, Hayley is a strong advocate of embracing emerging technology.
She said: "Motorist interest in high voltage vehicles is increasing and we know that the tipping point for the uptake of the servicing and maintenance of these vehicles in the aftermarket is coming, so we're delighted to be an EVsure garage.
"We've been qualified to work on these types of vehicles for some time, but being part of the national EVsure network brings an extra kind of support that is a great addition to my business."